Contact us.
Get a Quote.
We will respond to questions/quotes as soon as we can.
Email: [email protected]
Phone: 1-(780)-242-9887 
Based out of Edmonton Alberta, Kyle Ginn has been building and customizing guitars for over 20 years. After what seemed to have become an obsession, he set out to build his own in 2005. With the perfect guitar in mind, he started designing high quality guitars, from the inside out. Doing research on past construction techniques, and analyzing flawed components of old school technologies, he mended the greatest qualities of the past with the technologies and research of the future.
Concentrating on not only quality but versatility as well, each and every part of a Ginn guitar is thought out and contributes to the final piece of art. Kyle does every step by himself, and by hand. This makes for a slightly longer wait time but it ensures a detailed look at every turn. After years of research, trial and error, Kyle has built a reputation of vast knowledge of the machine we call the electric guitar. With an open mind and an open heart, he looks forward to putting your vision into your hands.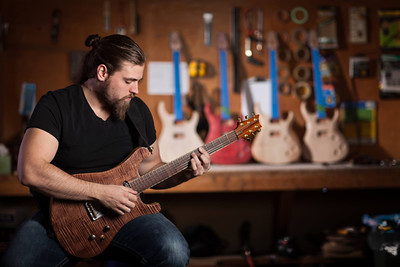 F.A.Q.
Frequently Asked Questions
How long will it take for a custom build?
Wait times for builds will vary. Orders with custom shapes/inlays/designs can take longer, but typically builds can be done within 16-24 months.  The reason for the wait is that every guitar is made by one person, start to finish. Building a guitar with us is a very personal experience and there will be many conversations and updates as developments are made, and through the design process. The curing time for finishing also impacts the build greatly. 
how much does a custom build cost?
The base price for a custom built to order guitar is $3400. Some options can increase, or decrease the price. Have a chat with us to get an accurate quote on your custom instrument. A 50% down payment will be required to start the build process of your custom guitar. 
do you build multi-scale guitars?
As of right now, we are not offering multi-scale instruments. Unfortunately Evertune bridges are unable to be utilized with multi-scale setups, and we believe the benefits of the Evertune system outweigh the benefits of multiple scale lengths on an instrument.
can i get a custom guitar without an evertune bridge?
Currently we are only designing and building guitars with Evertune bridges. Under special circumstances we may consider using other bridges in the future.
is there a GUARANTEE on custom guitars/repairs?
If a customer is not happy, we are not happy. We will do everything we can to resolve any issues that may arise at any point during and after builds, setups and repairs, and guarantee any work we do. 
what is the cost/turnaround time for an evertune installation?
A 50% down payment will be required to order the bridge. Typically the bridge will arrive within 2 weeks, and the install will usually only take 48 hours once I receive the guitar. The cost will change from guitar to guitar. If you do multiple guitars, there can be discounts. 
will an evertune fit my guitar?
Evertune bridges will fit most guitars. Contact us with the make, model, and pictures of your instrument and we will let you know if it is possible. You can also visit Evertune's website to find out additional information. 
how long does a setup take? how much will it cost? whats involved?
Contact me with information about the guitars you want setup, or what work you need done to get pricing. Discounts can be applied when multiple instruments are brought at once. 
Guitars will be assessed and we can give recommendations for services as well. A basic setup includes string change (customer supplied), truss rod adjustments, action/intonation adjustments, and a full assessment of the instruments condition. Most setups/electronics mods can be completed within 24 hours. 
where can i try out a ginn guitar?
Make an appointment with us, and we can set up a time for you to come and test drive guitars we have in stock. When considering a custom guitar, it is highly recommended that you try out some products (when possible) before committing to an order.